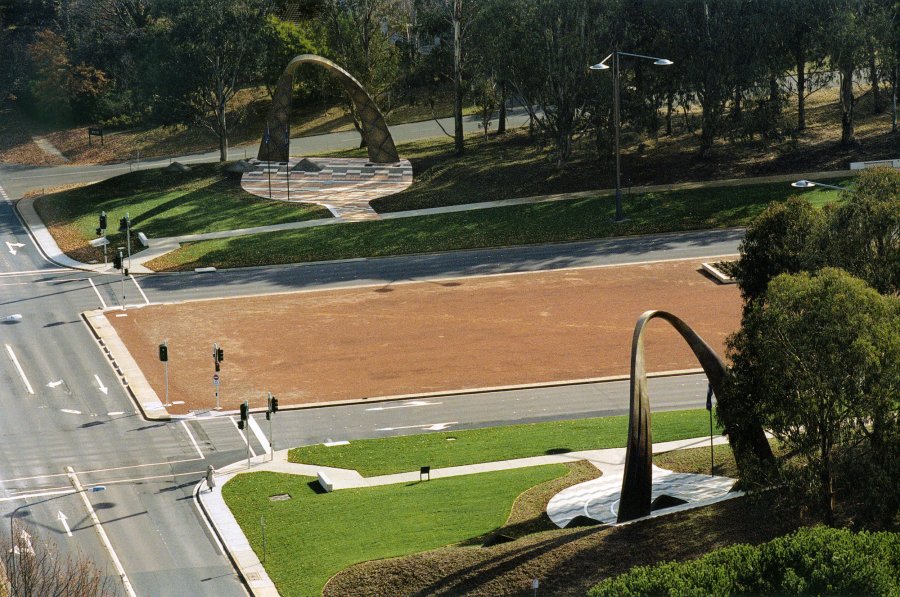 Kingsley Baird/Studio of Pacific Architecture
Mau tena kiwai o te kete, maku tenei
Each of us at a handle of the basket
A unique, co-operative relationship exists between New Zealand and Australia including a special bond forged during times of war.
The memorial, which includes two 11-metre high bronze kete handles, expresses remembrance specific to New Zealand's contemporary national and cultural identity and the New Zealand-Australian relationship, by combining Māori and Pākehā symbolic and visual elements. For example, the design is based on a Māori saying expressing universal notions of sharing the load (and sacrifice), and includes major indigenous (Māori and Aboriginal) design elements (paving).
Kingsley Baird and Studio of Pacific Architecture assembled an international team including paving design: Daisy Nadjungdanga / Urban Art Projects (Australia) and Toi Maihi / Allen Wihongi (New Zealand); poem: Jenny Bornholdt (New Zealand); and typography, Mission Hall Design (New Zealand).
Top Photo: Geoff Comfort